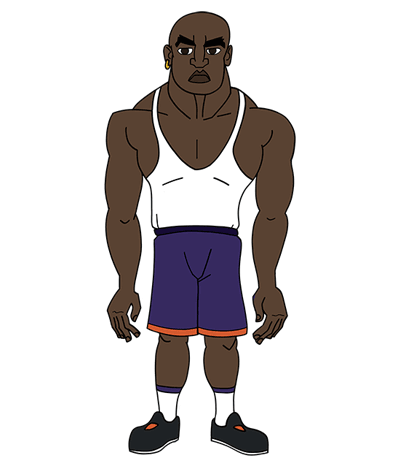 Hello, I'm Derrick
Sup, Derrick. You're one of those fellas people don't want to mess around with or so they say. But we get the feeling that there's a whole other side to you that we're dying to unearth. Let's start from the beginning. What was your childhood like?

Sup. I was born and raised in Atlanta and ever since I was a tyke, I was just drawn to writing, rap songs and all. But to be frank, I don't think my writing was good but my teachers begged to differ. They encouraged me. But let me stop you right there. You dawgs probably don't give a dime about my upbringing, right? All you wanna know is how your boy Derrick got into the gambling business. Fortunately, that's a far more interesting story.

Straight to the point. Do tell...

I have been passionate about gambling since I was 11. Streets do that to ya. Oh, I know it sounds cliche. Believe me, there isn't an argument I haven't heard about my lousy upbringing. It all started when little Derrick got a kiddie-sized roulette table complete with miniature chips. I just really enjoyed spinning that roulette and taking candy (which we also used to bet with) from my friends. Yup, I was quite the "little angel" as you can tell.

We can only imagine. So how did a "little angel" such as yourself become so serious about gambling in general?

Yes, there's more to this story than meets the eye. See, my grandad was a compulsive gambler. Kept tearing the family apart. He would gamble everything he had until Nana ran his ass out of the house. Dear ol' Nana and I used to argue day and night about how I'm just like grandad, doomed to fail. Eventually, both of us came to our senses and started addressing this issue rationally. Nana pulled all the stops so I don't follow gramp's footsteps. So I made a pact with my Nana. We basically made a deal that I'd always have a limit and that I'd never rely on gambling to solve my money problems. That's exactly what I did.

Wise words to live by...

I strongly believe that it was this pact that's turned me into the responsible gambler I am today. And when the Bro Collective was hiring, the ability to keep myself in check was what landed me the job. Writing reviews for online casinos and actually earning a buck for each of my scribbles. And here I am now, experiencing both great and horrible online casinos, having fun with my bros and just living a pretty good life.

That's a helluva story. The fact that you were able to translate your grandfather's mishaps into something that's supposed to help other people is truly commendable. You should be proud.

I am. People often ask me: "Derrick, you dawg, how can you gamble so much and not get addicted?" The secret to not getting addicted to gambling is not expecting to win. Don't know about you, dawgs, but I always play for the thrills. Going to an online casino is pretty much the same as going to a bowling alley; I never expect to come out with more money than I came in with. I know this may not be in the spirit of gambling, but I've seen what happened to my grandad and to some other casino players, so I'm very proud of this tactic. I always play for sport, and when I eventually run out of my gambling funds, that's when I hit the brakes.

But what happens when Derrick wins? Surely you're after that adrenaline rush like most players are.

Seeking that adrenaline surge is not the question. Of course, I do it to get the blood pumping. When I do win, I usually use it up again at the casino or either spend it on crap I don't need. I took my girlfriend to dinners, bought games for my nephews, beers and meals for my bros, you name it. I would never use my gambling winnings to pay for groceries, utilities or rent because then I'd be in a whole lotta trouble (both with my life and with my Nana).

So how does a land-based casino differ from an online casino? Those two experiences must differ from one another in many ways.

Completely. The reason I switched to online casinos is simply convenience. Going to a bougie casino is something I never really enjoyed. Too many people, stuffy atmosphere, that weird guy that's always eyeing you… I had enough of all that, dawg.

With online casinos, I get to grab a drink, a power bar and watch that little roulette ball roll on the screen. Maybe I'm getting a bit old, but for me, that is heaven. Also, your boy Derrick is a bit biased towards online casinos. I believe an online casino can never have too many roulette tables. Sure I enjoy an occasional slot machine (looking at you Book of Dead) and some live dealer sessions, but roulette is where my heart is. Every spin is a universe in and of itself.

There's a poet hidden there. Thanks for your time, dawg! There's no beating around the bush with you...

Don't mention it. Check out my reviews. I'll gladly tell you which online casinos to go to and which to avoid. Nana, I love you!