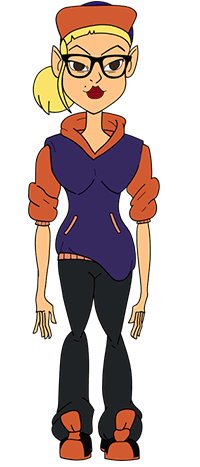 Hello, I'm Lilly
Hi there Lilly, nice to have you.

What's up mates, thanks for calling, I appreciate it. Sort of.

What do you mean 'sort of'?

Well, it's not like you invited me to a beach barbie or anything. And you know what the Joker said, If you're good at something, never do it for free. I am doing this interview for free, right?

Yes, you do.

Bloody 'ell! So, no drama, what do you wanna know?

Tell us a little bit about yourself.

I'm from Sydney, born and bred. It's okay, I guess, the city reminds me of a proverb my dear ol' granny used to say, A good horse has dozens of flaws, and the bad horse has got only one. It's a good horse, for a city as overhyped as Sydney. Having said that, too many bogans roam the streets these days, tourists and locals alike, everything is overpriced, cant' light a durry anywhere anymore, but you know what's the best thing about Sydney?

What?

It's not bloody Melbourne, that's for sure (laughter). Pompous little pricks, or should I say – discount Europeans, or so they figure, no gravitas, no flavour. Where was I, oh yeah, I gamble since I was five, did you know that?

We certainly did not.

Bloody oath! I have a weird uncle, he's a really iffy character, taught me how to play craps and poker when I was a kiddo. Before I knew it, we were tossing pennies like they were nothing. Cheap bastard, never let me win, but he gave me a valuable lesson – there's no free lunch, and you can count only on yourself and a few people that absolutely adore you. Ten years later, I was suspended from school, run a sweet betting gig with a friend, who's gonna date who, who's gonna fail a class, ya know, the usual teenage stuff (laughter). But the bitch couldn't keep her mouth shut, God I hate her, even today. She's a lawyer these days I hear, seems appropriate for a devil's spawn that she is.

And after high school?

College mate, what else?! Got me a degree in visual arts, the most expensive piece of toilet tissue I've ever seen. Wanted to become a movie director, or do something in the video games industry, that's why I'm so easily triggered by online casinos with sloppy and distasteful visuals, now that you ask. College was fine, like a TV show Cherhnobyl – Not great, not terrible (laughter). Partying, studying, partying, studying, a bit of travelling, blimey, now that I think of it, I shouldn't be complaining, there's like 80 per cent of people on the planet who were dealt a crappier hand than mine if life was a game of poker.

Do you have a favourite movie director?

Crikey! Are you sure you know how to interview people? Bloody oath I do, let's see, Bergman, Welles, Kubrik, Scorsese, Fincher…I think that John Ford is the most underestimated movie maker in history, and I truly love how Tarantino writes and handles female characters – hands down brilliant! Not a single female director on my list, if you've noticed, but that's about to change, finally, in fact, it's changing as we speak.

So, you have a long history of gambling?

(sings) No diggity, I got to bag it up… Seriously, I'm what you might call a genetic gambler. Never had any addiction issues, I think (laughter), but it's true, I am always looking for an angle, figuring odds and risks, it's in my nature. It's ironic, it truly is, that I hate mathematics and somehow I have a knack for it. Nowadays I am not allowed to gamble in online casinos I write about, being a pro reviewer and all, but boy oh boy, you should see me in Vegas. Slots fear me, the croupiers fear me, but nothing, nothing can match the dread that waiters feel through the spine when I enter the casino floor (laughter).

Honestly? You don't look that threatening, maybe you are exaggerating a little?

Oh, I am a sweet little candy once you get to know me, but this is casino mate, it's total war with no prisoners taken, both financially and psychologically. Are you listening, bros?!

As it happens, we learned a thing or two about you, people say you are not so urban and sophisticated as you try to present yourself?

(laughing) Put a sock in it, flattering will get you nowhere, my dear.

But it's true, you are somewhat, how shall I put it - in contradiction with yourself?

Now you sound like her royal frickin' majesty the queen, or even worse – a politician. But let's say there is some truth in your words mate. I'm from Sydney and I can be a little bitchy, with unreal standards and expectations, but truth be told, I consider myself to be one-half Sindey, the other half the Outback.

You are joking, right?

Hell no! Where do you think my dear ol' granny picked up all those proverbs and wisdom, in the fancy Sydney neighbourhoods?! The Outback baby, pure wilderness unadulterated by the presence of humans, half of my bloodline comes from the heart of the Continent. And I ain't talking about the Bush – Alice Springs mate, she used to have a small farm not far from the town. And I tell ya, nothing makes me happy and content like dusk in the Outback, a cold one by my side, fire crackling next to my rusty old Holden ute with an improvised tent on it. And the stars mate, here, look, I've got goosebumps, and I am not being overly patriotic if you know what I mean. It's just beautiful, period. God, I miss the Outback so much.

Wait, I've personally read your reviews and a person writing them is obviously a bit decadent, far from down to Earth, country-loving creature you are trying to present yourself right now.

And your question is?

What is it - Sydney Lilly, or the Outback Lilly?

You don't get it, do ya?! There is no middle ground with me, like ever. You wanna take me out on a dinner, fine, choose something outrageously expensive, or take me out fishing. Wanna go on a holiday together? Pick a five-star, no, six-star hotel, or a stunning camping site, I don't care. If I really have to spell it out mate, it's this: I. Like. Beautiful. Stuff. It's not my fault that beautiful things cost a shitload of money, apart from mother nature. That's for free. For now at least.

Do I feel an eco sensibility in your voice?

Mate, the planet is dying, it's not an 'eco sensibility' that you hear, it's a cry for help. No, take that out, it's a battle cry for immediate action, whatever the cost.

You've mentioned patriotism, isn't there anything that makes you proud being an Aussie?

Finally, a fair dinkum question. I believe that sense of pride is something that needs to be achieved or earned. I'm an Aussie by chance, not personal effort, talent, persistence, or skill. I could say I am happy and grateful because I was born in a country blessed with such beauty, but proud – not in a million years. Pride takes work, mate.

Wow, I've never dreamed you could be so calm and reasonable.

Told ya, I'm a little bundle of joy. Outside casinos. Sober. (laughter)

But surely, there has to be something specifically Australian that hits you in the guts?

Money! (laughter) We have the best-looking money in the world. So colourful, vibrant, and decorated with the motives of animals and plants. Excellent design overall, if only their looks are matched by the value.

Another surprise, so tell me, why are some of your reviews so, let's say - vitriolic?

Well cry me a river. I am venomous because we are dealing with the supreme bullshiters, in the top of the range bullshit business. Even the most honest and well-made casino is still trying to rip us off in the end, so naturally, I have no mercy or compassion whatsoever. Not to mention, it is my job to write reviews that will help our fellow gamblers to survive in a harsh, non-forgiving world of gambling. And if someone thinks I am a callous little bitch, I take it as a compliment in this line of work. I will continue to tear apart lame casinos the same way eagles shred roadkills in the Outback.

We edit your casino reviews, and you don't write the same way you speak, why is that?

It's called being professional, look it up, it's right there in the dictionary. I don't expect every single geezer in the world to understand Aussie English, so I modulate a little. And, by the way, I'm True Blue, don't you guys worry about that and bring me a coldie while you're at it, it's getting both hot and boring here (laughter).