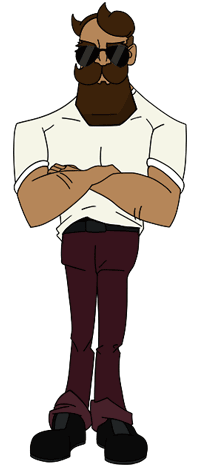 Hello, I'm John
Hey there, John. Are you ready for this "interview"?

Shoot.

Ok, dude, somewhat off the topic, but I always wanted to ask you this - when did you decide to grow that beard and why?

(laughter) Alright! I was waiting for this one down the line, but you're sure to go straight for the jugular. Actually, it's a kind of funny, faith-related story. I lost a bet at college, and I had to grow a beard.

And the bet being…?

I had to chug a whole lotta beer in under one minute.

As we can see, you did it perfectly...

Yes (laughter), and ever since then this has been my "style". I mean, in the process of growing it, it grew on me. The same logic can be applied to my writing.

Does this style make you more serious when writing or more relaxed?

Wow, jumping straight to the business now, ain't ya? Honestly, I don't know, I always try to put it all out there – the good, the bad, the ugly. I believe being thorough is what makes a good writer, especially when it comes to gambling. There are a whole lot of combinations, rules, angels, tricks, and whatnot, so I try to cover the most of it. It's important to give the readers what they want so they can decide for themselves if something is good for them or not. That's why I leave the verdict of serious John vs relaxed John to my writers.

Ok, that was a quite serious answer. But hey, in this line of work one must be brutally honest, right?

Exactly. There can be a bit of a joke and a relaxed tone to it, but overall, I favour being more of a serious guy who gets things done by the book.

Certainly you do (wink), but you are not like that at all, personally?

Well, I am a big softy, I admit to that. I guess a big beard and a big heart go hand in hand.

A little bird told me that you are not just good at writing and that you have developed quite an artistic side. Is that correct?

Ok, now I know you definitely talked with my mom. Hi, mom!

Guilty as charged (laughter)!

Yes, I am a bit of a music freak, especially for the oldies

Can you sing?

Weeeeeeell, yes and no. My friends ask me to sing all the time, but I am a bit shy on that side.

Come on, you can be that shy? You don't look the part.

Oh yeah, I am, you wouldn't believe it.

Ok, this is a new one, even for me. I always thought about you as a wise sage figure. Like Gandalf.

Flattery will get you nowhere, but yes. Gandalf is certainly one of my favourite characters. I just hope I don't sound like I am thousands of years old.

Oh no, no, not at all. Well, a bit, but it has its charms (laugh). Speaking of years, how does it feel to be the oldest bloke on the team?

Well, it feels good actually. I feel right at home. I can only be grateful for having such fine colleagues like you and Derrick. As it is hard these days to find someone as eloquent, knowledgeable, yet so relaxed and easy-going in this line of work.

Ha! Look who's flattering now?

No, this is serious John talking now. I believe it is of utmost importance to have competent people, with a critical (almost cynical) approach towards gambling. On the other hand, one must have that easy-going approach to balance things out.

There is a fine line we must walk while writing about gambling. People should know all about the possible downsides of gambling, not just the fun ones. After all, each bet is a universe in itself. But we mustn't forget the fun part as well. That's why I believe we need more people like you and Derrick – individuals who make gambling relatable and clear to all players, but are fully aware of all the BS that the industry brings alongside.

This way, we provide objective insights, telling players: "Alright, there you have it, all black on white. If you wanna take it, fine. If you don't want to, also fine." All in all, it all boils down to individual decisions.

(blink, blink) Ok, now that was a speech, dude. Ok, I think I wanna talk to a bit of a relaxed John, ok?

(LOL) Alright, alright, alright! Sorry, I know I get carried away.

Ok, no problemo, man. Then, let's end on a somewhat "fun" note. I am gonna ask you a series of rapid questions, you answer with the first thing that comes to your mind. Ready?

Do I have a choice?

No.

(sighs) I always sucked at this. Ok, shoot, M'lady!

I'll be gentle, don't worry! Starting with the easy one - favourite book?

The Lord of the Rings. Hands down.

Surprise, surprise. Ok, favourite actor in a movie?

Tough one. I guess Paul Newman in "Sting", great movie, brilliant performances, a good story and a classic hustle flick.

Interesting, I see gambling instincts already kicking in. Roulette or Blackjack?

Blackjack, definitely. I don't trust that tricky white little ball.

Joe Hachem or Daniel Negreanu?

(LOL) you know the answer to that one.

Negreanu, obviously. Favourite song you like to hum?

"The kids are alright", by The Who. What can I say, my parents ' influenced.

Huh, I sense a hidden message here for me and Derrick. Can you sing it for us?

No way. You won't hear me singing at all.

We'll see about that. Last one, do you like to gamble?

Yes, I do. It sounds like a cliche, but I strongly believe gambling should be considered as a way to have fun, not money. Although we all know that the reality is far from that. That's why every day I put on my gambling superhero cape and boldly go to preach about the ways of gambling, helping players in need and trying to bring more fun into it. That's all.

Serious John is back again, I believe this is my cue to go.

(laughter)

Nice chatting with you, John, thanks for having me.

The pleasure is all mine, Lilly. Thanks for helping me.